2023 Annual Information Technology Summit & Tradeshow

Thursday, May 4, 2023
7:30 AM to 4:00 PM
Holiday Inn by the Bay, 88 Spring Street, Portland, ME
Why Attend the MTUG Technology Summit?
MTUG's IT Summit and Tradeshow is the premier technology infrastructure conference in Maine with workshop topics that speak to the concerns and interests of IT professionals in all organizational sectors and industries. The exhibitors on the tradeshow floor will run the full array of IT services, from telco and ISP providers, managed services providers, collaboration services, application development, project management, training, IT management and support, data and storage management, infrastructure/data center, cloud services, and more.
Attendees enjoy for just $55 Early Rate:
Sponsors / Exhibitors have unique access to:
A regional IT professional audience who attend MTUG events specifically for our brand of carefully selected/guided workshops featuring authentic technology implementation experiences from their peers.
Be present among the largest collection of IT vendors in Maine. Local tech professionals come to MTUG to meet the tech vendors invested in Maine and Northern New England.
Visibility on the MTUG event site, directory, and event-related publicity.
Access to the print-only attendee list delivered to all User Group attendees at the event.
Use our Email Signup form below if you would like to receive attendee, presentation, and exhibitor announcements about the MTUG IT Summit, and our other programs year-round.
---
Ready to Get Involved with the MTUG Summit?
---
Sponsor and Exhibitor Package Registration OPEN!
Complete 2023 Summit Sponsor & Exhibitor Package options [PDF] linked here.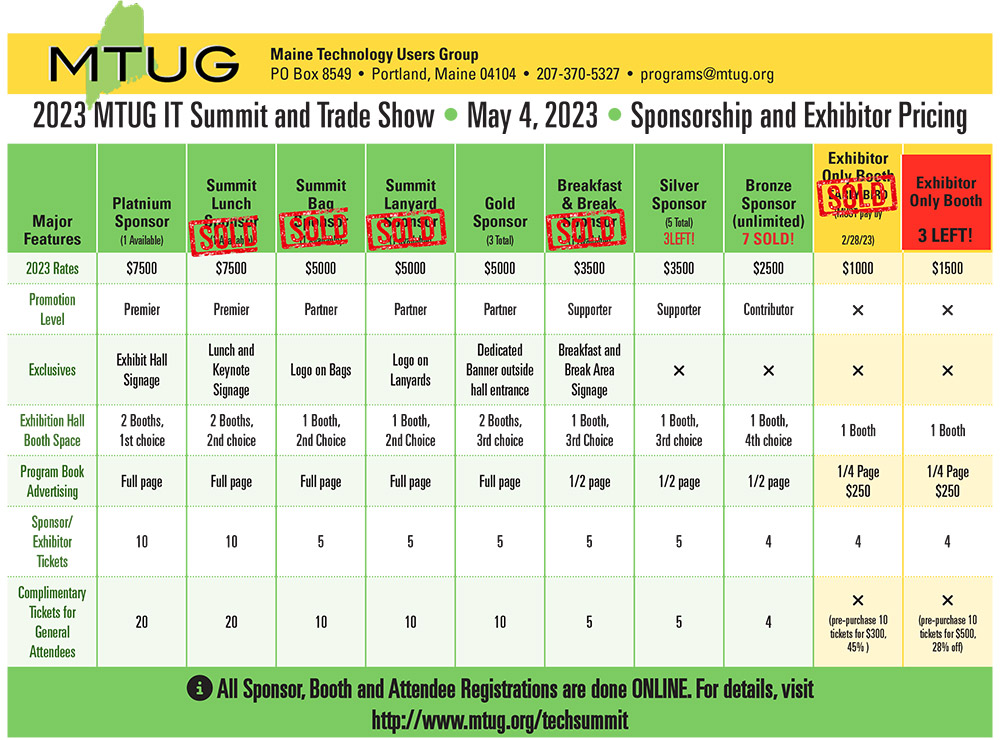 (Be sure the PDF's title says 2023 -- if not, please clear your browser cache).
The MTUG Summit Tradeshow floor books quickly -- please register soon!
Please click among the "buttons" below to start a registration / invoice request for a Sponsor/Exhibitor package. Package registration is via an embedded Google Form within our site, and an invoice is sent to you after you have completed this form. If you have questions about a sponsorship or exhibiting package, please check out the above package comparison grid PDF, or you can Contact Us with your interests and we will be in touch!
Contributor Level Sponsor Package

Support MTUG's year round programs!
Booth-Only Package

Be part of Maine's largest tech tradeshow floor!
A handful of booths have become available.
Register now to reserve your spot.
For a full description of all packages, please check out this year's Booth / Sponsor Packages Info Grid [PDF] (same as linked above).
An early version of our Exhibitor Logistics is linked here. Thank you!
---
Summit Workshops
This year's Summit will feature approximately 12 to 15 Workshops.
MTUG's Workshops are selected through a public RFP process in the months before the Summit -- the 2023 Summit RFP period is now closed . Our Board of Directors looks for programs of interest to the MTUG community, and reviews workshop content with an eye toward featuring independent, first-person experiences with encountering and solving IT challenges. All Summit Workshop Proposals not accepted for the IT Summit will be automatically considered in developing our 2023-24 Educational Season calendar of monthly events beginning in September (this process begins in June). If you've missed the proposal period, you are still welcome to enter a Workshop Proposal for consideration for the next season. You can use the Summit Workshop forms at these links: Google Form, MS Word Form, or PDF document.
Sign up for MTUG's mailing list to be sure to receive RFP-related announcements & updates for next year: MTUG Mailing List. (Summit Workshop RFP forms will be sent out to ALL MTUG email groups and audiences.)
---
Public Attendee Registration is Open!
Please use the Eventbrite button above to go directly to the MTUG2023 Summit Eventbrite Form to complete your Public Attendee Registration. This form can also be used for "supplemental" Sponsor/Exhibitor Passes for exhibitors who need more passes than came with their exhibitor package.