December Peers & Beers - Augusta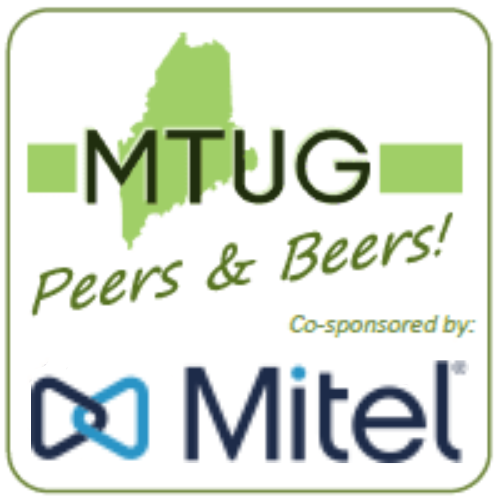 Wed., Dec. 13, 2023, 4:30pm - 6:30pm
Location: August Civic Center - North Wing,
📅 Click Here to create a Google Calendar Item (please also register.)
Join us for some refreshments, in-person networking, and holiday cheer!

This month's topic is "Technical Leadership in the Real World"
presented by James Troutman

This brief presentation will provide practical tips and insights on securing support for your digital transformation initiatives. Learn to effectively communicate complex tech and risk subjects, aligning them with your leadership's priorities

This month's sponsor:
Mitel - "Mitel's mass notification, and Communications Solutions are designed for today's modern organization, enabling reliable communications across a wide range of channels and devices so that everyone can be kept safe, informed, and connected during emergency situations – regardless of their location."
This event is open to and free for the public. We hope you'll join us for this fun educational networking session!
---
Speakers
James Troutman
Consultant
James Troutman has been an avid user of the Internet & UNIX since 1987. He is most often found roaming the countryside as a freelance consultant solving problems for a wide variety of organizations. His engagements have included IT infrastructure redesign, interim CIO or CTO guidance, telecom management, website redesign and data integration, network deployments, infrastructure and security audits, and PCI-DSS compliance. He has also has worked extensively on creating Internet infrastructure and broadband.
Among his many volunteer activities he a Director of the regional Internet Exchange for Maine and Northern New England (NNENIX.NET), serves on the board of the Maine Technology Users Group (MTUG.ORG), and is the Director of Operations for the Skytalks Village at DEF CON (Skytalks.info & defcon.org)

---
To reserve your place, please complete the appropriate registration form on the event page by clicking on the button below.
LEARN MORE & REGISTER NOW
---
(All presenter content is posted "as-is" and does not reflect the opinions of or any endorsement by MTUG, its board members, or constituents.)
---
Many thanks to our Peers & Beers Sponsor Mitel
Would you like to be a MTUG Peers & Beers Sponsor?
MTUG Peers & Beers sponsorships are unique opportunities to support MTUG's independent educational mission while having exclusive visibility and networking opportunities with the MTUG's community. Learn more about our Peers & Beers sponsorships for this year.
---