Webinar: BYOTech & Nosh - A Smart Home Walkthrough with Sam Gaudet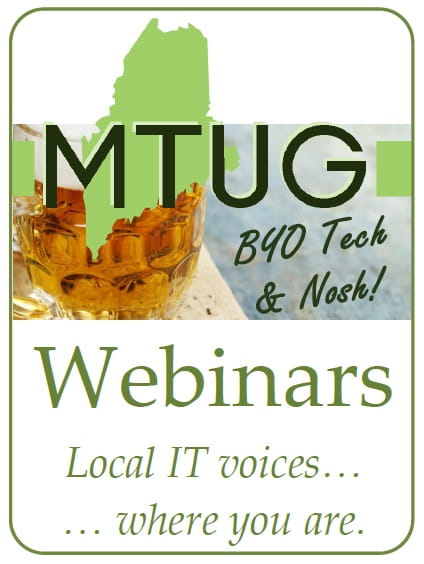 Wed., Apr. 29, 2020, 4pm - 5pm
Location: Online at http://mtug.webex.com
Video & Materials List Link
Cheers! Sam Gaudet walked us through his modest smart home setup, and shared his endeavors and decision-making process for various parts of his solution. Recording available by the end of May; Materials List available below.
Having lights turn on as dusk, turning a car on with your voice, adjusting the thermostat from anywhere in the world are just a few of the simple, but convenient tasks that Sam will demonstrate. Feel free to invite any homeschooling teenagers as well!

Sam's List of Materials for His Setup: https://github.com/sgaudet/sgaudet.github.io/blob/master/mtug-smart-home.md
On our first-ever "BYO Tech & Nosh" we featured Maine / Northern-New-England sourced beverages/snacks our host, speaker, and select viewers bring to the session. Share with us about your fare of choice during BYO Tech & Nosh in the chat feature and we'll call it out at these events! Email us in advance at programs(at)mtug.org and -- if your beverage/snack comes from an establishment with a good online product listing and/or order form -- we'll include it in our announcements! Must be online by 4pm to play along!
What is the purpose of the BYO Tech & Nosh webinars?
Many of us are working remotely at home with whatever equipment we have -- these sessions may include sharing of the tech tweaks for our home environments. Sessions may also cover less-business-focused "after-work" tech subjects.
MTUG's "Peers & Beers" sessions are not possible right now -- but there are lots of local vittles vendors we'd love to feature! Share with us your local baked goods, libation, take-out vendors of choice -- we'll get your favorite Maine/NorthN.E. purveyors some visibility!
---
MTUG thanks volunteer board members Mark Hopper and Eugene Slobodzian for their assistance coordinating this session.
---
---
Speakers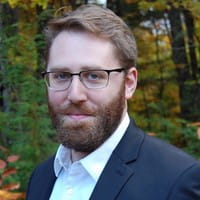 Sam Gaudet
Regional Vice President of Technical Account Management at Tanium
Sam Gaudet is the Regional Vice President for the Technical Account Management team at Tanium, an endpoint security and systems management company based in Emeryville, California.
He joins us virtually from his home in Gray, Maine. In his free time, he likes to go camping with his family, make craft cocktails, and when the gyms are open, practice Brazilian jiu-jitsu.
---
During Wednesday's BYO Tech & Nosh, Sam plans to enjoy a refreshment from Birchwood Brewing in Gray, Maine (online ordering available).
Host Kate Carpenter will be enjoying coffee from Cafe Creme in Bath, and afternoon dessert from Centre Street Bakery in Bath and Stonewall Kitchen (via Shaw's), and happy-hour refreshment from Maine Craft Distilling.
Tell us what you're enjoying for locally-sourced refreshment & we'll call it out on air -- just like the Oscars, except it's what you're wearing on the inside that counts.
---
Maine Local Mass Listings of Who's Open & How:
Please email programs(at)mtug.org with any mass listings like these that we have missed!
---
Watch the Video
Text quality in webinar recording may vary. If needed, change settings in video frame below (gear icon) or reference the slide deck PDF (above).
(All presenter content is posted "as-is" and does not reflect the opinions of or any endorsement by MTUG, its board members, or constituents.)