Breakfast & Webcast: "Security & the People Risk"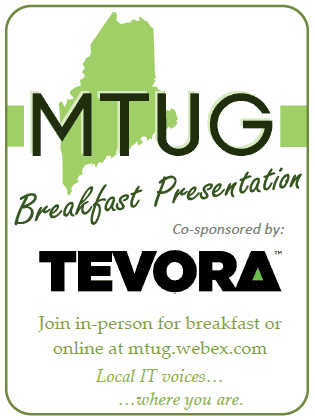 Wed., Oct. 24, 2018, 7:30-9:30am (Webcast starts at 8a)
Location: TIQA, 327 Commercial St., Portland
Download & Video
"Security and the People Risk"
A Special Breakfast Workshop and Webcast co-sponsored by TEVORA!
Wednesday, October 24th MTUG held our Fall Breakfast & Webcast -- a live-event webcast at TIQA on the Portland Waterfront. The event began with breakfast treats and networking at 7:30am. The presentation was at 8am, finishing up with Q&A shortly before 9a.

Accessing the Webinar Only: The webinar broadcast of the presentation started at 8:00am, available online at MTUG's Webex Portal mtug.webex.com.

Event Schedule:
7:30am: In-person Breakfast Event Opens with Breakfast/Coffee

8:00 - 9:00am: Presentation (with Online Webex broadcast), with Q&A time near end

9:00 - 9:30am: Networking
In this session, Frank Appunn discusses how enterprises can reduce one of the largest cybersecurity risk areas – People. Using existing systems, processes, and structures, plus a limited budget, to make significant improvements to your security posture.
This workshop draws on formal research completed in Maine, plus further research and content to provide a comprehensive review of improved practices regarding users of information systems. It considers employees, contractors, and consultant, together with extensions for customer and supplier access.
Attendees learned about current approaches to reduce people risks. There are immediate and low-cost ways to reduce risks, measure, and pinpoint areas where the organization can improve. The presentation then addresses the five specific strategies to make improvements.
MTUG thanks boardmember Mark Hopper for his assistance with coordinating the speaker and assisting with the facility for this session. MTUG also extends a huge thank you to our Breakfast Webcast Co-Sponsor, TEVORA! (www.tevora.com)
Location & Parking Details: TIQA is located along the Portland Waterfront, on Commercial Street, near the west end of the Old Port. Plenty of parking should be available on-street and in nearby lots on a first-come, first-served basis.
---
Speakers
Frank Appunn
Maine InfraGard Members Alliance, and IT & Security Professor/Consultant, Thomas College
Dr. Frank Appunn is known widely as a respected, engaging, enthusiastic professor, speaker, and researcher in the areas of cybersecurity, technology, project management, and business, with teaching and research roles at Thomas College, St. Petersburg College, and Northcentral University. He has been an entrepreneur for more than 20 years, providing technology, security and project management solutions to the banking, health, and mining sectors in North America, Europe, and Africa. In addition, Frank is an active member of the Maine Chapter of InfraGard, a partnership between the FBI and the private sector committed to creating a seamless public-private collaboration that expedites the timely exchange of information and learning opportunities relevant to the protection of critical infrastructure.
---
Watch the Video
Text quality in webinar recording may vary. If needed, change settings in video frame below (gear icon) or reference the slide deck PDF (above).
(All presenter content is posted "as-is" and does not reflect the opinions of or any endorsement by MTUG, its board members, or constituents.)