32nd Annual Information Technology Summit & Tradeshow

(this event has passed)
Thursday, Jun 13, 2019
7:30 AM to 4:00 PM
Holiday Inn by the Bay, 88 Spring Street, Portland, ME 04101
---
Thank you to everyone who attended, spoke,
exhibited & sponsored!

SAVE THE DATE!! The Next MTUG Summit will be
Thursday, May 26, 2022!


---
Why Attend the MTUG Technology Summit?
Attendees enjoyed a continental breakfast, buffet lunch, keynote speaker, afternoon dessert, and access to 14 workshops over 5 tracks, and full tradeshow floor access. Contact us today if you would like to receive attendee, presentation and exhibitor announcements about our next IT Summit, as well as MTUG's free season of monthly events from September to April. We look forward to seeing you!
Get all the great details in
2019 Event Day Brochure [PDF] linked here.
The event featured:
14 Technology Workshops, carefully selected by the MTUG board, over 5 tracks.
Exhibit Tradeshow with 50+ exhibitors.
continental breakfast
buffet lunch
afternoon dessert
dozens of door prizes from exhibitors and vendors
---
---
Summit Agenda
This agenda does not include some exhibitor setup and registration time info. For that information, please see the Exhibitor Logistics information.
7:30–8:30am

Attendee Registration in Lobby (1st floor)
Continental Breakfast in Casco Bay Hall (downstairs)

8:00 – 8:30 am – Student Orientation – Connecticut Room, 1st/Lobby Level.

7:30am–4:00pm (ALL DAY)

Casco Bay Hall – Vendor Exhibits

8:45–9:00am

Casco Bay Hall – Opening Remarks

9:15–10:15am

Workshop Sessions A (Lobby Level & 2nd floor - 5 consecutive workshops)

11:15am–12:15pm

Workshop Sessions B (Lobby Level & 2nd floor - 5 consecutive workshops)
Detailed workshop schedule below.

12:15–1:45pm

State of Maine Banquet Hall - Lunch, Keynote Speaker, and Scholarship Presentations
Keynote Ravi Srinivasan, Vice President Solutions & Platform, Forcepoint

2:15–3:15pm

Workshop Sessions C (Lobby Level & 2nd floor - 4 consecutive workshops)

3:00pm

More Desserts in the Casco Bay Hall

3:30pm – Students Regroup at Reserved Table in CB Hall

3:30–4:00pm

Final Remarks, MTUG Grand Prize & Vendor Door Prizes!

4:00 pm – The 32nd Annual IT Summit & Tradeshow ends
---
Summit Workshops
The MTUG board works to select workshops that feature "end-user" IT professionals (tech staff working for non-tech-sales companies), presenting their own experiences with specific technologies or IT/security management challenges.
Click here, or the grid below, for a full schedule with descriptions [PDF].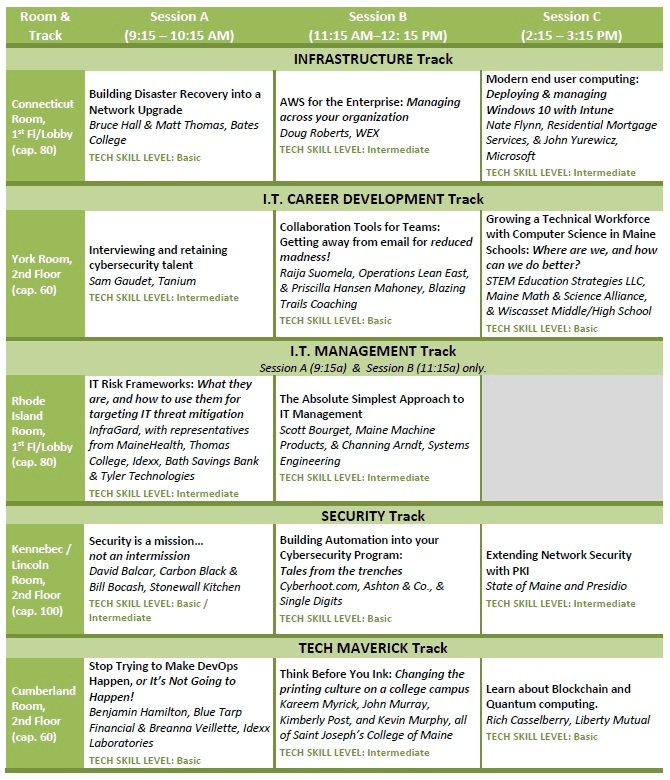 MTUG accepts workshop ideas accepted ALL YEAR LONG! Planning for the next season begins in June (Proposals not accepted for the IT Summit will be automatically considered in this planning). You may use the Summit RFP form below to submit a proposal for next season (just ignore the deadlines)
--> 2019 MTUG Summit Workshop RFP: MS Word version / Adobe PDF version
---
Keynote Speaker
---
Ravi Srinivasan, Forcepoint's VP of Solutions & Platform
"Mitigating Business Risks in Today's Evolving Security Landscape"
---
Organizations are maturing their security programs to protect users and data in a highly distributed digital world. This session will focus on the emerging challenges to reduce the business risk and secure environments that you don't own or fully manage, running services that you did not develop, and collaborating with more people, entrusting them with your business data. This session will also cover effective strategies for risk-adaptive protection across network, cloud, data and workforce.
Join MTUG in welcoming Ravi Srinivasan from Forcepoint! Ravi brings fascinating experiences in behavior modeling to the security discussion, including a background in teaching IBM's Watson the "language of security."
Ravi Srinivasan
Vice President, Solutions and Platform, Forcepoint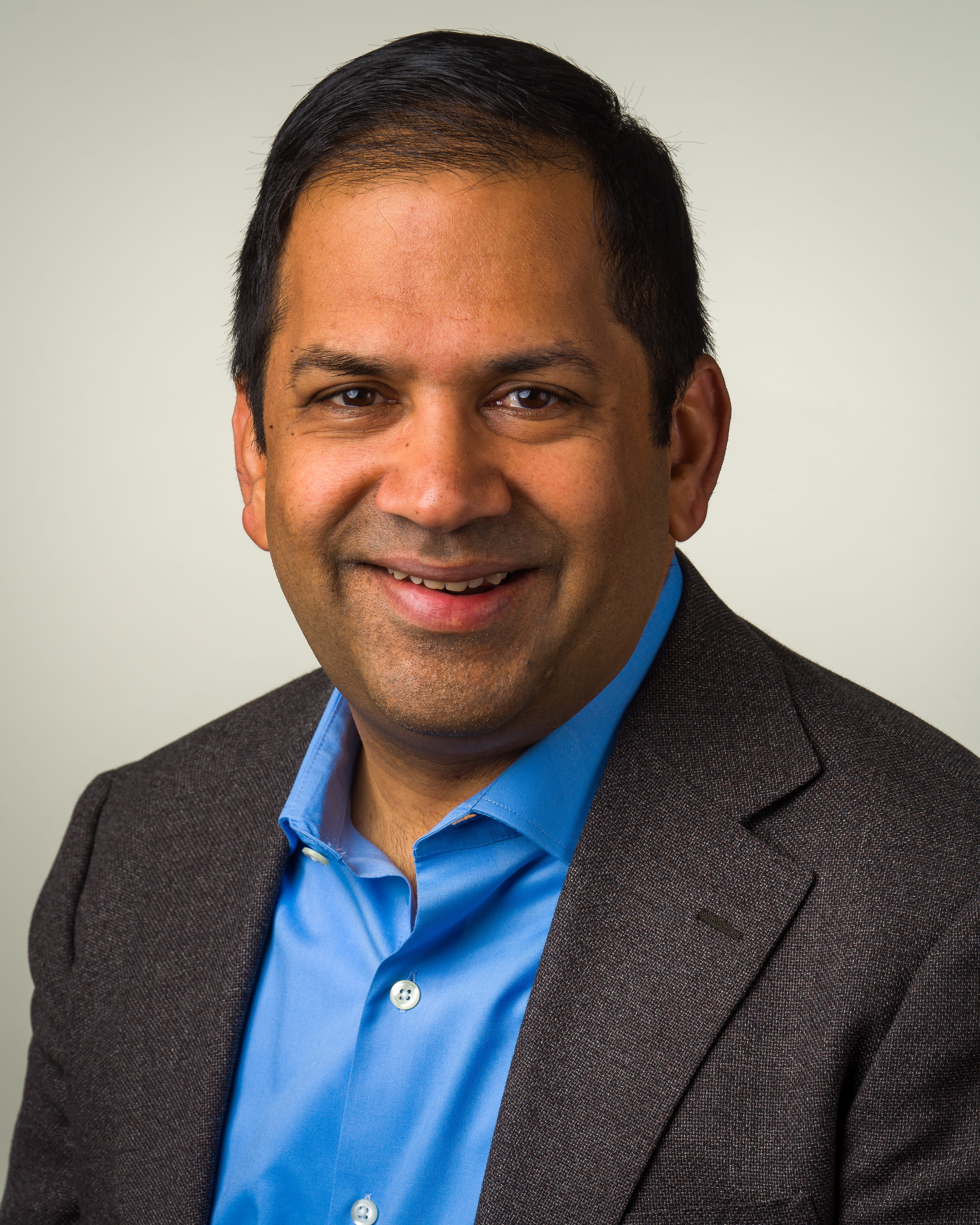 Ravi leads solutions and platform at Forcepoint. In this role, he is responsible to design, messaging, positioning, and differentiating the Forcepoint solution offers in the marketplace. Ravi is also responsible for analyst relations and channel marketing at Forcepoint.
Ravi meets and consults with Security leaders on their information security, cloud and compliance initiatives. He's also a frequent speaker at trade, analyst conferences, sharing the worldwide perspectives on secure enterprise digital transformations.
Prior to joining Forcepoint in 2019, Ravi successfully led the IBM Security strategy and offering management for 15 years, focused on Identity, Data, Application, Mobile, Fraud, and Cloud Security. Ravi is based in Austin, Texas.
---
(Note: this is a slightly different program than originally posted in April.)
---
---
Exhibitor Information
Practice Badge QR Code


MTUG uses a standard QR code that creats a vCard entry for your default phone Contacts app, with the term "MTUG2019" in the notes field. Most phone cameras can recognize this type of QR code. We do not sell, nor require vendors to purchase, any special proprietary lead management equipment.
Press Info
Social media:
---